www.arteideologia.it  is a virtual location for real time experimentation and language, planned and coordinated by Carmelo Romeo and Luciano Trina in 2007. It is free of any financial intervention by third parties, institutions or public and private organizations.
The website arteideologia.it, and NoMade, a Critical Supplies almanac
After conceiving the review of operational aesthetics Aut.Trib 17139 in 1978, and creating a internet storage site that was well ahead of its time, Carmelo Romeo and Luciano Trina moved to tie up the threads of their specific experience of art by creating the www.arteideologia.it website.
Although it supplies diverse materials which can be be resolved typographically, this website by no means poses itself as a catalogue or showcase of works and products which already exist elsewhere: rather, it is the place where the two coordinators are at present actualizing the program which they originally set in motion back in 1970 with the show Appunti per Erostrato, and developed in later years with the works and initiatives documented in a volume entitled Catalogia Politica (Political Catalogy). This was re-printed in 2007 to serve as a foundational act for the new website.
Arteideologia.it was created as a means for the production, distribution and consumption of "critical supplies", literally in its double meaning of (cost free) distributions of theory and essential goods which have become unavailable.
An unhurried visit around the website would convince the viewer that he is not only inside an informational environment, but that he's also witnessing the unfolding of an allegorical (and thus labyrinthine) process in the context of which the idea of art (figurative) is larger and more far-reaching than any specific product contained inside it.
In this reversal, where it is theory that contains the single works and not the other way round, each object tends to lose its consistency in the larger context of the website: thus, almost like the iconographic projects of the great Renaissance fresco cycles, it is the website that becomes the actual work – which in turn becomes tangible through the single works which find, or seek, both their initial inspiration and their final completion in the website's overall complexity.
Even the performances are staged solely in view of their resolution on the web page, where each thing tries to find its own place at a proper "critical distance", which owes nothing to empathy nor to embellishment.
This achieved indifference towards any independent aesthetization of the single object thus allows the original and specific web form of a NoMade almanac to find its own specific character in the PDF file, which users can print with a normal computer and home printer. Every PDF text or image download from the site is thus an "original" to all effects. And in the same way as users "make" the object for themselves, they can also do their own expertise – if this is still their intention.
Indeed, we should add that the two authors consider intellectual property the most hateful form of private property, and for this reason do not claim any rights for their skills, freely employing works of any other authors which they feel can strongly contribute to the construction of their site or of any one single critical supply.
The above makes it clear that the authors regard the publishing of works in printed form as a residual activity in relation to their work on the website. Additionally, although they feel these printed products are still indispensable and worthy of close attention (but not aesthetization), they are presently discovering that the web today is most appreciated form… by the instantaneous imagination as well. (Steven Grieco, 2014)
After initially conceiving and publishing the review of aesthetics in operation Aut.Trib. 17139 between 1978 and 1983, promoting other publishing ventures, and following this up with an early construction of an internet site for simple storage purposes, the two authors felt that the worldwide web's specific format was the most appropriate vehicle for them to launch a second phase, which they started off with a program denominated "Forniture critiche" ("Critical Supplies").
Given that the authors still recognize printed matter to be an indispensable medium, much of the content on the site is also supplied in typographic form, i.e., it allows prospective users to download and print out booklets and visual works prepared for this express purpose, in such a way that each of these is a one-of-its-kind object.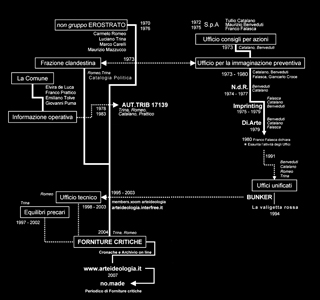 Diagramma della continuità dell'attività attuale con quella pregressa
From January 2007 to September 2014, the
arteideologia.it
website has generated a print-out potential of which the following is a partial list: 
"Catalogia Politica" ("Political Catalogy") is an account of the work of a group of artists who collaborated with the authors of this site from 1970 to 1975.
The various booklets of cards belong to a collection that was published on various occasions between 2002 and 2006, including publications on Remembrance Day.
The 100x140 sheet "Announcement to the Peoples" came out in the context of a Critical Supplies program which was delivered to the Spanish Pavilion at the 2011 Venice Biennale, and handed out together with various collections of cards with "Author Unknown" watercolours.
The booklet "21 22 23 Odande Dovde" was printed in 2013 and handed out for use as an opera libretto for the performance "Van Gogh's Cobbler and Malevich's Tailor as Almanac Vendors".
The NoMade notebooks and other publications are collections of written and art works, both recent and pregressed ones, which already had or which developed into their present shape during the website publishing process (as was the case with the Dossier on the surface in painting, or the study on Van Gogh's shoes).
NoMade is a yearly almanac issued by the Critical Supplies program. Eight issues have appeared to date, in both web and printable versions, with contributions and collaborations by other specifically acknowledged authors, Amongst these are:
Filadelfo Anzalone, Guillaime Apollinaire, Bantu Gjagga, Georges Bataille, Bertolt Brecht, Amadeo Bordiga, Aldo Braibanti, Harold S. Bride, Mira Brtka, Mel Brooks, Luis Bunuel, Francesco Careri, Marcel Camus, Roger Caillois, Timothy J. Clark, Alexandre Corréard, Al Capp, Marcel Carné, Tullio Catalano, Guy Debord, Reno de Felice, Alexey D. Diermanovich, Maurice Dommanget, Friedrich Engels, Edoardo Ferrario, Richard Fleischer, Hal Foster, Michel Foucault, Sigmund Freud, Alexei Gan, André Gill, Gruppo Gorgonia, Stephen Jay Gould, Steven Greco, Alfred Hitchcock, Denis Hollier, Fedor Dostoevskij, George Jackson, Marcel Jean, Ivan Kozaric, Siegfried Kracaucer, Paul Lafargue, Davide Lajolo, Vladimir Lenin, Kazimir Malevich, Pasquale Martignetti, Karl Marx, Amerigo Marras, Fabio Mauri, Marcel Mauss, Franz Mehring, Piet Mondrian, Paul Nizan, Nobuya Abe, Rita Pacifici, Valeria Paoletti, Goffredo Parise, Tim Parks, Telmo Pievani, Monica Prisco, Jack Phillips, Radoslav Putar, Wilelm Reich, Cesare Pavese, Yevgeny Tarle, Leonce Petit, Quinterna.org, Hans Richter, Jacques Rigaut, Angelo M. Ripellino, René Thom, Lucio A. Seneca, Meyer Schapiro, Alberto Sobrero, Eugene Sue, Josip Vanista, Ben Vautier, Francesca Zattoni, Erik Cristopher Zeeman, e altri.